Sacred Space
From the First U. Art Collective – Sacred Space
In this time of isolation, when we as a community can not join together in our beloved sacred space of the Meeting House, The First U. Art Collective would like to share this offering, expressing our unique perceptions on the idea of Sacred Space. We hope you enjoy our heartfelt imagery in this time of reflection and hope, as we all look forward during these wintry days of growing light.
A sacred space is a place distinguished from ordinary everyday spaces. Something about it — rituals that people practice there, specific events that have occurred there, or a more ephemeral yet powerful attraction — sets that place apart from other places. A sacred space may be overtly spiritual and religious and designed with that intent, but it can also be a place that holds meaning or solace for a group of people, or an individual, such as natural features, holy lands, or personal shrines. A sacred space may also be an inner space, such as is encountered in meditation, or an imaginal space such as a mandala. What makes a place sacred is the meaning and sacredness ascribed to it by people. During this time of isolation and unrest we are perhaps again redefining just what a sacred space can be.
Sacred Structures
Sacred in Nature
Sacred Human
Sacred Circles
Sacred Interior – The Mind's Eye
  Sacred Shrines
Dedicated to our dear friend and colleague
Irene Allen
Ever curious, gracious and insightful, a lovely creative spirit
who valued the sacred in art and life, her love of poetry, her connection to nature,
and her beloved community at First Unitarian and beyond.
Life is a balance of holding on and letting go.
– Rumi
Three Prophets
Stylized from Google maps and depicting (L to R) Lumbini (birthplace of Buddha), Bethlehem (birthplace of Jesus), and Mecca (birthplace of Mohammed).
Annie Bissett
Sacred Structures
The heart is the hub of all sacred places. Go there and roam.
– Bhagawan Nityananda
Wall of Windows – Hassan II Mosque, Casablanca
Greg Kniseley
Like our Meeting House, a mosque is sacred space for worship and serves as a location for prayer, vigils, marriages, funerals, and other ceremonies. The two photos feature Casablanca's Hassan II Mosque, the largest functioning mosque in Africa and 7th largest in the world. The mosque holds 25,000 worshippers inside the hall.
In the black and white image, you can see a person photographing a wall of windows inside the hall, reflections off the marble floor, and prayer rugs oriented towards Mecca. 
In the color image, below, you can see the marble plaza, hall and minaret. The plaza outside holds another 80,000 worshippers. The minaret is the world's second tallest at 689 feet. On top of the minaret is a laser light which is directed towards Mecca, the holiest city for Muslims.
– Greg Kniseley
Marble Plaza, Hall, and Minaret – Hassan II Mosque, Casablanca
Greg Kniseley
The desire to reach for the sky runs very deep in the human psyche.
– César Pelli
First U Steeple
Amy Webb
First Unitarian Balcony
Richard Boober
Stairway
Richard Boober
Christmas Eve
Richard Boober
Candlelight Singing on the Balcony
Philip Lieberman
The temple is a point of intersection between heaven and earth.
– David A. Bednar
Winter Window
Martha Rice Sanders
Magnolia Spring
Martha Rice Sanders
Magnolia
Martha Rice Sanders
To encounter the sacred is to be alive at the deepest center of human existence.
– N. Scott Momaday
Cistern in El Jadida, Morocco
Susie Dorr
Sacred in Nature
The sacredness of the world is that it pursued the light; the sanctity of the cave is that it never left the darkness
– Brian S. Woods
Stone Water
Sally Barker
Looking North – Franconia
Sally Barker
Smuttynose Perch
Sally Barker
Mother & Chick
Sally Barker
There are no unsacred places; there are only sacred places and desecrated places.
– Wendell Berry
Block Island
Acrylic on Canvas
Carol Giliberto
Sacred spaces are everywhere. Plein air painting is my space, where I feel nature's infinite powers, wonders and healing force.   – Carol Giliberto
Maine
Acrylic on Canvas
Carol Giliberto
Sunset
Dena Quillici
The Dock
Dena Quillici
Our Back Yard – Perseids
Acrylic on Canvas
Sue Meyer
This is a view of the Perseid meteors, above our neighbor's fence. When conditions are right, our back yard (mainly parking spaces) can be a good place to see astronomical events. Several years ago we watched an eclipse of the moon, and the neighbors joined in, all of us leaning against our cars. I have shoveled snow by moonlight. When looking at the night sky from our back yard, a sense of peace descends from the greater space above. – Sue Meyer
Overcast Beach
Janet Downing Taylor
I took this picture because I wanted to hold onto a sacred place of such spiritual beauty, peace, and wonder right there on Roger Wheeler State Beach.  – Janet Downing Taylor
When I would re-create myself, I seek the darkest wood, the thickest and most interminable and to the citizen, most dismal, swamp. I enter as a sacred place, a sanctum sanctorum. There is the strength, the marrow, of Nature.
– Henry David Thoreau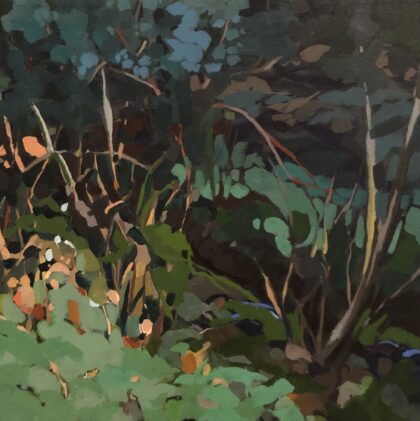 Secrets Within
Oil on Canvas
Mimo Gordon Riley
This work is all about marks.
On a black gessoed canvas I start making marks, painting lines, creating shapes, and putting down random bits of color that appeal to me. Before long they clump together and begin to resonate; I start to recognize that something familiar is coming into focus….I play with the color, the light, the shapes…pushing and pulling to develop more fully whatever it is that I have begun to see: a momentary vision, a place, a feeling, a rhythm, or a state of mind.
– Mimo Gordon Riley
Emergence
Oil on Canvas
Mimo Gordon Riley
Every painting is a voyage into a sacred harbor. – Giotto di Bondone
Mhamid Dunes
Greg Kniseley
If the desert is holy, it is because it is a forgotten place that allows us to remember the sacred. Perhaps that is why every pilgrimage to the desert is a pilgrimage to the self. There is no place to hide and so we are found. –Terry Tempest Williams
Mussachuck Creek Sunset
Greg Kniseley
Photographing slows us down and connects us to the sacred spaces between light and dark and to the beauty and wonder of it all.
–Susie and Greg
Sandpiper with Crab
Susie Dorr
Belvedere Sunrise
Susie Dorr
And while I stood there I saw more than I can tell and I understood more than I saw; for I was seeing in a sacred manner the shapes of all things in the spirit, and the shape of all shapes as they must live together like one being. – Black Elk
Sacred Human
The goal of life is to make your heartbeat match the beat of the universe, to match your nature with Nature.  – Joseph Campbell
Tai Chi
Watercolor Woodblock Prints
Annie Bissett
Forget about enlightenment.
Sit down wherever you are
and listen to the wind singing in your veins. – John Welwood
Wind
Deborah Baldizar
To me sacred space has become the place inside that I go when needing comfort or escape.
 – Deborah Baldizar
Earth
Deborah Baldizar
Water
Mixed Media Drawing
Deborah Baldizar
The Kindness of Strangers
Ruth Emers
Mother and Child
Ruth Emers
Mother and Child – Abstract
Ruth Emers
Rimpoche of Tengboche gompa – 1993
Philip Lieberman
1993  photograph of the incarnate Rimpoche of Tengboche gompa (monastery). He is a Bodhisattva. In Tibetan Buddhism – a person who could have achieved Nirvana but chose to instead suffer the inevitable problems of life so that he could guide other sentient beings to that goal.  The Tengboche monastery is the center of worship in the Khumbu (Everest) region of Nepal.
Sacred Circles
Each person's life is like a mandala – a vast, limitless circle. We stand in the center of our own circle, and everything we see, hear and think forms the mandala of our life.
– Dilgo Khyentse Rinpoche
Tibetan Mandala
Philip Lieberman
A 15th century Tibetan mandala from the Jampa Temple, Lo Manthang Nepal
 a space for meditation.
Mandala
Beth Adouette
Contemplative Sacred Circles  – I discover or co-create with nature. They gently hold the physical and spiritual message of the moment, the wordless conversation between me, nature, and the Creator. – Beth Adouette
Prayer
Beth Adouette
River Bed
Beth Adouette
The life of expression is the tuning fork by which we find our way to the sacred.
– Mark Nepo
Sacred Spaces
Sacred Spaces
Wood and Found Objects Assemblage
Chiara Romano Van Erp
I created this three-dimensional work few years ago, inspired by Stone Age places of worship, and other mysterious man-made environments of our past with their unexplained secrets. 
Stonehenge comes to mind, but it is just a recent place compared to the Carnac Stones in France. And then there is the more recent discovery of Gobekli Tepe in Turkey that predates Stonehenge by 6,000 years!
Celestial observatories? Solar and lunar calendars? Religious worship places?
Spiral Water
 Zambia, southern Africa, 2011
Dena Quilici
Canteen
Woodblock Print
Annie Bissett
In the state of consciousness natural to the field within the mandala – that of Self-realization, or non-duality – such opposites as inner and outer, or subjective and objective, male or female, matter and spirit, are all grasped as connected, married, ultimately unified.  – Pema Chödrön
Sacred Interiors – The Mind's Eye
Look upon paintings with eyes of mystery rather than judgement. Support the need to enter into the sacred space beyond evaluation. –Michele Cassou
Song 4
Acrylic on Canvas
Irene Allen
Song 5
Acrylic on Canvas
Irene Allen
To live in this world
you must be able
to do three things:
to love what is mortal;
to hold it
against your bones knowing
your own life depends on it;
and, when the time comes to
let it go,
to let it go.
– Mary Oliver
Goldfinches in the Moon
Digitally Created Work
Thomas Terceira
Mundus 3
Digitally Created Work
Thomas Terceira
Alchemical Man
Digitally Created Work
Thomas Terceira
Untitled
Collage and Ink
Michael Walczak
The sacred space abstractions for me respond to the inner space one may find in meditation or self-exploration during this difficult time.  The sacredness of the space is both the joy and sorrow we may discover as we let go and visit our inner selves.
– Michael Walczak
Sacred Shrines
Every childhood has its talismans, the sacred objects that look innocuous enough to the outside world, but that trigger an onslaught of vivid memories.
–Steven Johnson
Altars
Nancy Worthen
I create small altars in areas of my home. These small altars celebrate nature, memories, creativity, people and other sacred aspects of my life.  Elements vary, but each one contains hand-crafted items, pieces of nature and sacred objects from Buddhist and pagan traditions. As I move through my home, these sacred spaces bring me comfort. – Nancy Worthen
Covid Memorial
Nancy Worthen
Sacred Hands Nest
Amy Webb
From the randomness of found objects and saved treasures, these assemblages come together over time as little shrines, echoing Vanitas themes of transience, memory and a gentle nod to mortality. – Amy Webb
Vanitas Shrine
Amy Webb
Pomegranate Underworld
Amy Webb
The Peace Flag Project
Celebrating peace through the tradition of peace flags
reflecting positive wishes for the world.
Creating Sacred Space
Peace Flags
Peace Pole
Dena Quilici
Luminaria
In celebration of the United Nations International Day of Peace
Somewhere within all of us is a wordless center… This faint confluence of the tangible and the spiritual is where art comes from. May each painting you do from that sacred place include an expression of gratitude for the extraordinary privilege of being an artist.
– Richard Schmid
Your sacred space is where you can find yourself again and again.
– Joseph Campbell
Curated by Amy Webb
With many thanks to Annie Bissett for her grace with words in the introduction, Greg Kniseley and Sally Barker for editing, and all the First U. Art Collective members who participated in this exhibit and helped to guide and inform the process.
A special thanks to Bill Koteff for his generous time with website support.
For information regarding this exhibit or the First U. Art Collective
contact amy.webb7@verizon.net