Membership
Welcome to our newest First Unitarian members
Class of May 2023
James Austin.  James is a native Rhode Islander, having grown up in Barrington. He attended Rhode Island College as an undergrad, and later the University of Rhode Island for a Masters in Library Science. James currently works as the Access Services Librarian at the Community College of Rhode Island Lincoln campus where he has the pleasure of helping other Rhode Islanders achieve their educational goals and improve their lives. He is also a practicing artist/craftsman, making a wide variety of functional items for everyday living, in particular carved wooden tableware, and handwoven baskets.
James began attending First U with his wife Suzanne shortly before the birth of their first daughter Zoe, and has attended irregularly since then. They have now been joined by a second daughter Abbie and First U has become an increasingly important part of their lives. The care and compassion found in this community have created a new home which he is so happy to have found, and the commitment and push for social justice drives him to be a better person in the world.
Theresa Campbell.  Theresa is originally from Massachusetts and moved to Providence just as the pandemic was settling in for a long stay. She has three grown children who mean the world to her and who are moving on with their own lives. Theresa is looking to create a community for herself here in Providence.
Born and raised a Catholic but finding that did not fit her lifestyle for a multitude of reasons, Theresa became a very active member of an Episcopal Church in Holliston, Massachusetts where she raised her family. Since she arrived in Providence, Theresa has been church "shopping" but has not found the right fit. The moment she walked into First U she knew she had found her home! She is very much looking forward to meeting new people and sharing her time and talents with the UU community…and beyond!
Theresa works in the senior living industry as a sales director and loves her job helping people through a difficult transition. In her spare time, she likes gardening, gluten free baking, refinishing old furniture and making macrame plant hangers…if anyone wants/needs one please let her know…there are only so many plants you can hang in one house!
Andrew Cappelli.  Andrew Cappelli has been attending First U for as long as they can remember. As they near the end of the Spiritual Pathways education and bridge into the main congregation, they are filled with hope and joy for the future. Not only has First U been an educational and spiritual place of worship for Andrew, it has served as a place of friendship and kindness where he can get ready for the week ahead no matter the problems they face ahead.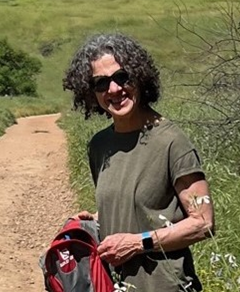 Sally Cassells.  Sally moved from Lexington MA, to Bristol last September. Though she was born in England, her parents immigrated to Canada when she was very young, and she lived in Nova Scotia and Ontario and studied Math at McGill University in Montreal before moving to Boston after graduation. She and her husband Andy lived in Lexington, where they raised their 2 sons, for 36 years. After being a member at Follen Church in Lexington for more than 20 years, she is looking forward to continuing her UU journey at First Unitarian.
Sally retired after a long career in software development. She specialized in clinical trials data management and drug safety signal detection systems working in program development and data architecture. In retirement she is an AI hobbyist.
Sally is a masters' swimmer and loves outdoor activities including hiking, cycling and open water swimming. She also likes to cook and read. Her sons live in Denver, Colorado and San Diego, California but visit Bristol as often as possible.
Liza Davis and Chris Nootenboom.  Originally from Minnesota (Liza) and Oregon (Chris), Liza and Chris moved to the Providence area in the fall of 2019 when Liza began graduate studies in archaeology at Brown. Liza grew up Catholic, but increasingly desired a spiritual home that reflected her values. They started attending First U in January and immediately felt at home. Chris and Liza both love rock climbing, video games, making music, travelling, and exploring the natural beauty of New England. They live in Warwick with their two rambunctious felines!
Angela Early.  Angela lives in Providence with her husband and two children, Celeste (4) and Elliott (1 1/2). She is a biologist who studies malaria. Outside of work, she primarily plays tickle monster and attempts cooking meals everyone in the family will eat, but one day she may return to playing violin and reading books. She looks forward to participating in and watching her children grow within First U's welcoming community.
Donnamarie Kavanah.  Donnamarie and her daughter Kate moved from Massachusetts to Cranston last summer. She is the proud mom of 2 and Nana of 4, and being with family is Donnamarie's greatest joy in life. A Registered Nurse, Donnamarie works as a clinical auditor for BCBSMA. Her real passion and life purpose involve using sound and energy modalities to help folks find their healing place.
A practicing Catholic for many years, Donnamarie felt led to the UU Church while living in Plymouth, MA.- followed later by UU Church membership in Quincy, MA. Having been a Hospice volunteer in Plymouth, Donnamarie looks forward to contributing to First Unitarian groups, starting with the Caring Crew and Women's Alliance.  "Feeling welcomed already, First U feels like coming home." Loving Nature and the great outdoors, Donnamarie looks forward to discovering all the Ocean State has to offer.
Emma Kraner and Jake Ducharme.  Emma and Jake live in Pawtucket with their two cats Lola and Sonny, and dog Jack. Emma is a high school English teacher in Woonsocket. Jake is an engineering consultant for city and town drinking water systems throughout New England.
Both hail from Connecticut but love Rhode Island. Being a part of a spiritual community has been a goal as they build their lives together. If you'd like to get to know them better, ask Jake about canoeing the Wood River, his new gravel bike, and all the tricks their dog can do. Ask Emma about editing poetry, baking bread, and the five different knitting projects she has going on.
Tess Rondeau.  Tess grew up in the UCC Church that her grandparents went to in Norwich, CT. It was very much a family church, with many biological cousins, aunts and uncles, as well as great family friends who she still thinks of as aunts and uncles.
After living on the East and West coasts in her 20s and early 30s, Tess settled in RI in 2004 to be closer to family. Through the years, she has always worked with children or in nature, through teaching water science classes in WA state, teaching and training volunteers at a Natural History Museum in PA, helping backpackers in of Olympic National Park, or helping raise Rhode Island's next generation, as a nanny.
Tess began to search for a church community in RI, but found it difficult. She then tried finding a community through volunteerism and social justice activities. However, having always maintained a belief that people need some kind of faith and moral direction in life with a community, she continued to visit churches, but none had seemed to fit at the time. Right before the lockdown, she found First U! Due to an autoimmune disease, and some flares, she came back in person only recently. She is looking forward to getting to know others and cementing my place in the UU family here in Providence and beyond.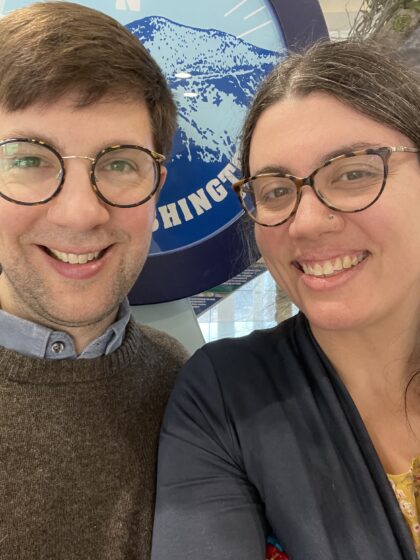 Erica and Nick Truesdale-Greil.  Erica and Nick moved to Rhode Island from south central Pennsylvania, where they were members of the Unitarian Universalists of Gettysburg. They are excited to join the spiritual and social community at First U.
Erica is a certified nurse-midwife, and she is passionate about providing care in a community-hospital setting. She enjoys learning about the history of the Shakers through trips to historical sites and museums, as well as her copious book collection. The Ocean State has allowed Erica to get back into rowing, which she first took up in high school.
Nick is an administrator at an arbitration and mediation provider organization. Outside of work, Nick enjoys reading anything he can get his hands on: philosophy, novels, history, travelogs, indie magazines, and journals. Nick is always on the lookout for tennis and cycling partners, and he is taking advantage of access to the bay to learn to sail.
Sue Wood.  Sue grew up outside Cleveland, Ohio. She lived in Boston for 30 years, and was active in First Parish UU in Concord, MA. She has been a Coming of Age mentor and enjoys the annual Ferry Beach church retreat. She recently moved to Providence and enjoys discovering new places to go and things to do in Rhode Island.
Sue spent several decades in school administration (finance), and currently works as a planning specialist in an Ameriprise office in Winchester, MA. She works remotely from Providence most days and likes to go into the office one or two days a week.
Sue has two grown children: a daughter in Calgary (with partner and one year old son); a son in DC (getting married this fall). Sue appreciates having the flexibility to spend time with her family. She enjoys walks and hiking, biking, reading, and board games. She leads a tai chi practice group in Concord. She often takes up a new hobby (most recently, Improv). She looks forward to connecting with other members, and getting more involved in First U activities.