Our Governance
Members decide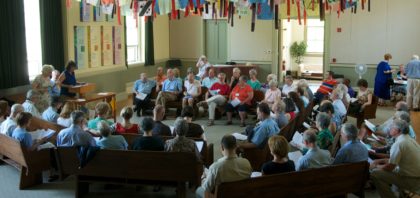 At First Unitarian, members make the major decisions that affect the church. We vote to call a minister, elect church leaders, adopt our annual budget, and more.
We conduct most of our business at an annual meeting in the spring. Our elected leaders call other meetings when they are needed. For example, we have gathered at special meetings to vote on becoming a sanctuary church, on sponsoring candidates for ordination, and to have conversations on matters important to the congregation.
To become a member and vote, you must be 16 years of age or older, have signed our Membership Book, and made a financial contribution of record to support the church within each 12-month fiscal year. You then become eligible to vote three months after becoming a member.