Partner Church
January message from Rev. Kelemen
Dear friends, siblings,
Not so long, about a few weeks ago, I read again a book that's dear and instructional to me.  It is the book by Antoine de Saint-Exupéry, 1943, The Little Prince.  In this book, the author, through the main character, shows the amazing way one can tame a fox, how in that wild and free soul, faith can be so great that it trumps fear.  The fear is from getting caught by the little prince, who takes his freedom away and rules over him.
Today's little princes are working on taming us in a similar way; however, their goals are not the same as the above-mentioned book's little prince's goals.  We can't be sure that our values will remain, that our freedom remains. Recent events all prove that these little princes are slave-owners, for whom we are, and we can only be servants.
In the book the fox tells the prince, "But if you tame me, we will need each other.  You will be the only one for me.  And I will be the only one for you…."  This is not exclusiveness, but the expansion of inner values, through which being together spark joy to people.  That's what we should experience.  We have to feel that we need each other, and not for one being more rich or other poorer, not for being each other's servants, but for love to expand in ourselves.
I think in a lot of ways, distance is the only thing that separates us.  We thrive to create time that we spend with each other, to make our feelings stronger, and to say that we are siblings.  We are important to each other.  "That time that you spent on your rose is what's making your rose so beautiful,"  says Antoine de Saint-Exupery, and he is right.  Because if we can find the inner values in each other, then there will be a bridge built through miles and above oceans, and we have tamed each other.
Let's make this happen, work for this to persist.  Let this celebratory moment define our lives, our thoughts at the time we are joined in our souls.  Let this community be the community of love – not the nothingness of forgetting.
With these thoughts I'm greeting my friends at the time of the partner church Sunday celebration.  I hope to see you again soon, to be together again, and to share new happy experiences.
2020-01-24, Szentegyhaza
Kelemen Szabolcs, Minister
---
January message from Rev. Liz
Hello again Szabolcs and everyone from Szentegyhaza,
I hope winter there is being gentle with all of you – so far, here in Rhode Island, it hasn't been too bad – in fact I wouldn't mind a few more snow days forcing us all to stay snug at home.
As I get ready for our upcoming Partner Church Sunday celebration, I am reminded of what a wonderful visit we had with you all last June.  I keep the little hat they made at the Hat Museum while showing us how they work in my room and think of that day and all of you every time I look at it.
Experiencing your region, and life there with all of you was such a rich and varied opportunity for me and for all of us who made the trip last June.  We gained a great deal from it, and are so looking forward to hosting now in our turn this coming June, both at our church and at our annual General Assembly.  My husband Tim and I are making plans for a celebratory dinner at our house, and many church members are enjoying putting together trips and special meals, as we prepare to try to reciprocate the wonderful hospitality we experienced with all of you.
The theological history we share is a powerful reminder of how far ideas and faith can spread, and what deep-roots can come from the seeds we sow.  I hope this new year before us will be one where the respect and compassion that are at the heart of our shared faith spread further and deeper within and well-beyond our congregations – these sacred traditions are more needed now, I fear, than ever.  And I'm proud that we are all strong for this faith that has so much to offer our broken and struggling world.
Warmest greetings to you all, in hope and faith,
Rev. Liz
---
Partner Church Committee

---
Photos from First U group's visit to partner church
Summer 2019
---

History of our Partnership
In 2008, our congregation voted to establish a partnership with a Unitarian Church in Szentegyhaza, Romania.  The church is in a small town nestled near the Carpathian Mountains in an area called Transylvania, once a part of Hungary.
Members of our congregation have visited our sister church three times. We have crisscrossed Transylvania, learning about its history and the founding of the Unitarian Church there in 1568. Members of the Szentegyhaza church have hosted us in their homes and treated us with warm hospitality.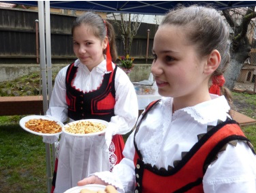 We have participated in their worship services and heard their bells ring from the bell tower we helped to build. You can see gifts they have given us used in our services and on display in our memorial garden. This ongoing relationship has created a special feeling towards our sister congregation and a deep appreciation of our shared religious heritage.
For more information about this our partnership, click here: Why We Have a Partner Church in Transylvania.
Timeline:
1930  First Congregational, now First Unitarian starts a partnership with a village in Transylvania.
1945  WWII causes contact to cease. The fall of Romania to Communism further suspends the relationship.
2004  First U meets with Unitarian Universalist Partner Church Council to discuss reestablishing a partnership in Transylvania.
2006  First Visit – First U members travel to Transylvania to explore possibilities of a partnership.
2008  Rev Kellerman and President Sandor Racz visit Providence, RI. First U congregation votes to establish a partnership with the Unitarian Church in Szentegyhaza.
2009  Second Visit to the Village.
2015  Third Visit to the Village.
Partner Church Visits
One of the keys to maintaining a strong relationship with our Partner Church is our visits with them. Everyone who travels to our sister church experiences a powerful friendship that seems to binds us together. The Szentegyhaza congregation always greets us with open hearted hospitality.  Their desire to show us their traditions, and their willingness to learn who we are and teach us who they are, is the hallmark of an open and enduring friendship.
This partnership is not about money or who can do what for whom.  It is about much more; once you are in it and experiencing the friendship, it becomes very personal. It is like swimming in a river.  You are immersed in it and must follow the current where it takes you. The partner church relationship gives us the opportunity to experience spirituality in the connections we make and the relationships we form with our Transylvanian Unitarian brothers and sisters.
Click on the  2006 Visit, 2012 Visit and 2015 Visit to find out more information on these interesting trips.
Various members of our congregation have visited our partners in Szentegyhaza. We usually plan our trips 6-12 months in advance. The trip usually starts in Kolozsvár, the city where the Unitarian Church headquarters resides. Each trip itinerary is different in some way.
There is a lot of Unitarian history in Transylvania and each trip has explored a different part of the country. There are many UNESCO World Heritage Sites in Transylvania, many with Unitarian connections, and our trips include visits to some of these sites.  The trip usually last 10 days; the first 5 days consists of a tour through the countryside.  Then we spend Thursday afternoon through Monday morning at our partner church.
The Village Experience
Each traveler experiences the hospitality of a member of the congregation in Szentegyhaza. This is the best part of the trip, a time where we get to know a family from the congregation. We sleep at their home or apartment, eat meals with them, and usually make a bond for life. The partner church hosts a number of events that showcase the area around Szentegyhaza. Come Sunday, We attend service and then eat a communal meal prepared in kettles over a wood fire in the church yard. The last days of the trip return us to Kolozsvár, where we catch a plane home, returning to America with wonderful memories and a new understanding of our faith.
About Szentegyhaza
Szentegyhaza is located in Hargita County, Romania, an area that is predominately Hungarian speaking. It is the located near the Carpathian Mountains, at an elevation 2,800 feet.  There are a number of churches in the area, but this is the only Unitarian Church.  The church has about 300 members.
The Szentegyhaza congregation is a triple minority in Romania. First, they are Unitarians in a country that is predominantly Romanian Orthodox. Second, they are Hungarian speakers where the majority of the country speaks Romanian. And third, they identify themselves as Szeklers, a minority subset of Hungarians living in Romania.
The town is rural and does not have a lot of large businesses although it was home to a large steel factory, abandoned in the fall of communism. A number of the people in town farm for a living. Some herd their cows and are moved along village streets to nearby pastures in the morning and are brought back in the evening.  A number of people in the congregation are migrant workers, and spend long periods of time far from home. Consequently, the full congregation does not usually attend services on Sunday. However, church attendance is especially high during major holidays when the church is too small to accommodate everyone.
The congregation has been in existence for 25 years and was formed a few years after the Romanian Revolution of 1989 that toppled the Communist regime.
Click on The People of Szentegyhaza to learn more about the friends we have made over the last ten years.
Unitarian Universalist Partner Church Council
The Unitarian Universalist Association developed a support system for congregations that are interested in developing Partner Church relationships. Since 1993, the Unitarian Universalist Partner Church Council (UUPCC) has been developing these relationships. The UUPCC assists congregations in selecting partner churches around the world and has a travel office that helps congregations organize travels to their partner churches. Click on UUPCC for more information on this topic. The UUPCC is not just involved with partnerships in Transylvania but has supported relationships elsewhere. For more information on partnerships throughout the world, click on  newsletters .
Future Activities
We are making arrangements for our partner church minister and his wife, Rev. Szabolcs and Eniko Kelemen, and their church president, Zoltan Laszlo, to come to our congregation in 2020 to help us celebrate our 300th Anniversary. The Transylvania delegation is now in the process of getting their passports for this trip.
Host needed for Transylvania minister, family in June

The Transylvania Partner Church Committee is requesting assistance from members of our congregation next June during the General Assembly to host Rev Elöd Szabó, his wife Katalin (Kata) and two children. For more information, click here.
Contact Us
If you have any questions about the Partner Church please contact Tom Getz or Janet Downing Taylor. They will be glad to talk with you to discuss any questions you may have.
---
Hungarian Youth Folk Dance Group Performed
The "Wild Roses Folk Dance Group", is a native Hungarian Youth Folk Dance Group from Székelykeresztúr, in the Transylvanian region of Romania. Members of our church visiting Transylvania earlier this year saw the performance and loved it!  The dance group performed in Concord, MA earlier this year.  Click here for details.
---
A 2019 Christmas letter from our partner church
in Szentegyháza, Transylvania, Romania
By Rev. Kelemen Szabolcs
Christmas: The opportunity for conversion and reflection
I am reminded of the passage of Sándor Petőfi, A Plan to Smoke:
And I remembered many nicer, more beautiful thoughts,
While there appeared at the time, while the wagon ran.
While the wagon was running, time passed quickly, and I was confronted with the simple idea that writing about Christmas was not such an easy thing. It's simple because I can write about the angelic message, the nativity games, the wonderful birth, the innocence of the cradle, the light of the star appearing, and so much that has been already thought of by everyone. I could write about the obvious things that surround us, such as how shopping is a very heavy burden today to find the right present for everyone or about the hassle of cleaning and the housekeeping for company. Those topics would be easy. But just as easy I could talk about Christmas past. However, 21st-century society is no longer enchanted with tales and fairies. If we do, these thoughts are only heard by the children; they still believe, they still accept these stories.
Our children, in the past, would listen to the stories of angels in wonderful adoration. We tell them the angel's eyes see everything. We say to them, "Be careful what you do, because the angel will not be happy if you are not good." We encourage the children to consciously do something good every day. It is touching as the little child tries to adapt to this expectation and does good. She/he strives for it.
Then something happened. We lost this concept somehow. The child now expects to be given things if they are good. Parents, grandparents, husbands, and wives now jump over themselves to make the children's dreams come true. This is how we have adapted to the expectations of the consumer society. The lights go on; we decorate, we make not only our homes, but our villages, our cities, so that we can make up for the lost light of shorter days. We forgot the special light was from that star – the light of the Christmas triumph.
As Matthew said, "Verily I say unto you, unless ye be converted and be as little children, ye shall in no way enter the kingdom of heaven." It does not ask anyone to forget what we have learned. He is saying to go back to the simpler way. Let us be exemplary of the spiritual good. Let us be conscious of the Advent. Let's not just wait, but let's make sure that Christmas shows us our inner light. This is how Christmas can be a celebration of "love," of "family." If we are only being superficial and spend time on the exterior, we need to step back and spend time caring for our inner soul. Doing good for our fellow human beings will do us the greatest good. This is a liberating feeling of inner fulfillment. This is an opportunity for Christmas – a celebration that begins in the Advent period and becomes permanent in us at Christmas.
The Unitarian Congregation of the Holy Church wishes all you a spiritual and a happy Christmas at this special time of year.
---
Thanksgiving 2019 message from our Partner church
The American Thanksgiving Day goes back to 1620. It was then that the 
settlers who emigrated to America arrived in the New World. The harsh winter has decimated them, and only 102 have survived the winter. They were lucky because the Indians, who had seen their misfortune, gave them the skills of local hunting and crop production. They did this so the settlers could have a rich harvest next fall.
Dear friends, Thanksgiving is a day to give thanks to many people and things:
It is a day to give thanks to the idea of ​​friendship which saved the lives of the first settlers. Let's give credit to the 102 people who endured the first American winter and who have blossomed into the American society and community we know today.
We thank the families. The warmth of the family stove has protected those immigrants, as well as us, so that we can be a valuable part of our community by committing ourselves to others.
We thank the children. Those who lived in both difficult or richer circumstances and who have been the embodiment of the American dream. Let's give thanks for the children to be born who carry on our society and will be a valuable part of our culture.
We thank the parents. Parents are brave men and women who dare to give birth to children and who sacrifice for their children to make their life better.
We give thanks for the song. It is the music, whose words comforts us in sorrow and excites us with joy.
We give thanks for the bread. Bread is not just the nourishment we place on our tables, but the life-giving food that so many in the world lack. This bread is given to us by the providential God.
We give thanks for the water. Water keeps us clean, quenches our thirst, and is one of the gifts without which there would be no life on earth.
We give thanks for the feeling of love. It is this love that binds us together to remove borders and oceans and allows us to be one in the spiritual peace of love.
We give thanks for life. Life is everyone's personal property. Do not play with it; it must be taken seriously. Life needs to be lived.
At this moment, we are gratefully thanking you for everything. For not only what we mentioned above but for many other things not listed. We are grateful to the good God and for the friendship and love we have between us.
Rev. Kelemen Szabolcs
Szentegyháza
October 29, 2019
---
Thanksgiving 2019 wishes from Providence
Of course, autumn is the harvest time all around the world.  The relationship between our two church communities is similar to the harvest.  We must sow the seeds of love.  This is the easy part – harvesting the love that has been sown requires much work, care, and understanding; thereby building a strong and persistent relationship.  This can be cumbersome, as we live far away from each other and our language is not the same.
This summer I have seen the fruit of our budding relationship.  I have seen the love of our communities and we have enjoyed your generosity.  The seeds are sown, but there is still room for growth.  Our relationship with you will continue to flourish.
I want to express my good wishes and the good wishes of our community for the successful harvests of the cultivated land and our beautiful relationship.  We always include you in our thoughts and prayers.
Peace be with you.
Yours,
Elizabeth Lerner Maclay
Pastor