Transylvania Partner Church Committee

The Transylvania Partner Church Committee began in 2006 after a pilgrimage of First U members went to Transylvania to explore the idea of a partnership with the Szentegyháza Unitarian Church. Those pilgrims came back to Providence, enthusiastic in this connection for our church and in 2007 the congregation voted to establish the partnership. Besides organizing more trips, the committee provides ways to promote the partnership with by providing activities to support our partner church. The committee members are those who have been on the different trips and other congregational members who value the partnership. The committee continues to provide awareness and information with these activities:
1. Communications between the Congregations
• Supported a visit of the minister and the lay leader of the Szentegyhaza congregation in 2008 and another visit planned for 2023.
• Organized additional trips to Szentegyháza in 2012, 2015 and 2019
• Promote greetings from the ministers of each congregation for Thanksgiving, Christmas, Partner Church Sunday and Easter.
• Provide monthly Zoom meetings between the congregations on the third Thursday of the month.
2. Congregational Outreach
• Partner Church Sunday is celebrated usually on the last Sunday of January. The committee has sponsored after-service presentations and a light lunch following the service. In 2021 and 2022, we were able to Zoom a joint service with both congregations.

• Sponsored Parish House Social Suppers and programs presenting slide shows of the different trips made to our partner church.
• Provided a ReFresh weekend with the UUPCC and First Unitarian leadership to increase awareness and participation in Partner Church activities.
• Initiated Congregational Conversations concerning the Hungarian Unitarian Church's position on same sex marriage. There was concern that we should not continue this partnership because of our congregation's years of advocacy to endorse gay marriage. Because the Szentegyhaza congregation said "anyone from your congregation is welcome in our congregation" and our mantra of "Love Beyond Belief", it was agreed to stay the course.
• Started a Facebook page between our Women's Alliance and the Women's Alliance of Szentegyh
aza. One of the posts was sharing Christmas cookie recipes during the holidays.
3. Other Transylvania Partner Church Connected Activities
• Support UUA Balszac scholars including one who gave a presentation of Unitarian History.
• Organized a contingent of First Unitarians to see a Transylvanian Dance Troup performance in Concord, Massachusetts
• Provided a fund-raising dinner to support partner church activities. "Taste of Transylvania" included a cook book of the same name with each ticket sale. The cook Book will be available on line here and for sale at the church bookstore.
• Sold virtual bricks to support the construction of a proposed new church for the Szentegyhaza congregation.
• Sold traditional Transylvanian linens from the village shop to showcase our partner's handicrafts.
• Provided some expenses to a Szentegyhaza ministerial candidate.
Partner Church News
Due to the continuing Ukrainian conflict, the Romanian Government has recently announced that energy in the form of electricity and gas may only be available for 12-14 hours a day. Our partner church minister, Rev. Kelemen and his congregation discussed with us ways in which we could assist. We found that we could help them to develop a food bank and school supplies. If people are given food, they will have more money available to pay for their energy bills. And, families with children will benefit with school supplies. The Transylvania Partner Church Committee voted unanimously to dedicate all funds in the Partner Church account to assist during this crisis.
The food bank program began in April 2022. Many elderly families were provided food assistance. In May and June an additional 24 families with at least two children were provided food packages. This food assistance was provided by a joint fund of donations from their congregation along with funding provided by First Unitarian. Rev. Kelemen personally provided the food distribution to each family. He said people were very grateful for the assistance.
The school supplies program helped 12 families with school supplies for their children. In Szentegyhaza, parents are responsible for providing all necessary school supplies. Rev. Kelemen's believes that "Children are our country's future and need to be cared for in this stressful time".
Initially their congregation hoped that with our assistance, they could house Ukrainian refugees. However, this has not been possible since they are themselves struggling with inflated living expenses even with our assistance. Rev. Kelemen is very concerned about the impact of high energy costs and the availability of energy this winter.
The cost of these two programs to date has been $2888. There a balance of $1,608 in the partner church account. We are in discussion with our partners on how to continue the food bank program. Based on their needs we will finalize this decision in December 2022.
If you have any further questions about our partner church, please contact Tom Getz or Janet Downing Taylor. In addition, Tom will be at a table in the coffee hour to answer any questions.
The Transylvania Partner Church is currently making arrangements for the minister and his wife, the Rev. Szabolcs and Eniko Antal, and their President, Zoltan Laszlo to visit our congregation the fall of 2023 as we continue to celebrate our 300th Anniversary. The timing of the visit will depend on international travel restrictions because of the pandemic.
The Szentegyháza Women's Alliance and the First Unitarian Women's Alliance now have a Facebook page just for sharing ideas and projects of interest to both. There was a Cookie Recipe Exchange at Christmastime.
The Partner Church Committee continues to conduct a monthly Zoom with our partners. The next Zoom meeting will take place on
Thursday October 20. We meet on the third Thursday of the month at noon. If you are interested in joining us, contact Janet or Tom and we will add you to the Zoom Invitation.
As part of this new experience, we are also exploring having Zoom buddies between members of the congregation. At the present time a three people from each congregation are forging a new friendship. Members of their congregation can speak some English, so there is no need to learn Hungarian to begin this relationship. If you are interested in becoming a buddy, contact Tom Getz or Janet Taylor.
Partner Church Pastoral Messages
Our ministers exchange greetings from and to each congregation during Thanksgiving, Christmas, Partner Church Sunday and Easter. These messages are used to share with our congregations the friendship we have with each other through this partnership. Thanksgiving is observed in September in our partner church. We will post the last message from each minister in this area.
First U 2022 Thanksgiving Greetings to Szentegyháza Unitarian Church:
Dear Szabolcs and all our friends in Szentegyhaza:
Greetings from Providence! You may know that our fair city was first founded to be a land of religious freedom and tolerance, much like your own church and land. From the Latin, Providence means "to provide" and we have always felt that we are bestowed with God's great providence. At this time of year, our American Thanksgiving invites us to reflect on our gratitude for such blessings.
This is also a time of thanksgiving for abundant harvests, which we celebrate just like you. Now is the time to think about harvesting the seeds we have sown earlier this year. Perhaps more than any other time we are reflecting on the seeds of "connection and friendship," be it those planted among ourselves here at home and those sowed in far off lands along with all of you in Szentegyhaza.
We are grateful that we are harvesting the seeds of health by seeing the end of COVID and all the losses that brought to us. We can now travel and we are able to see our loved ones who live away from us. Families can now hug each other in person. We are also thankful that our political life shows more promise that id did when Donald Trump was in office. Indeed, now is the time to harvest the seeds of relief.
Yet, even as we enjoy God's grace and share in gratitude for the blossoming of such seeds, our hearts still hurt for the troubles in Ukraine. We know the war has had major impacts on us and our brothers and sisters in Szentegyhaza: food prices have increased, heating and fuels for cars and trucks have increased substantially and there are concerns that salaries and pensions could not keep up with those increases.
Our congregation, in fond fellowship with you, has helped in your food and your children's school needs. As the winter temperatures warmed, we all looked forward to the warmth of summer. Many people in our congregations knew that things would get better soon. Some who could, planted a summer crop that would help in keeping spirits up in the upcoming winter. The fruits of our labor will be felt when food is prepared in the not-too-distant future.
With that, we do believe the seeds of love have grown into a better understanding that each congregation has about each other. The bond of love has grown closer between us and we can look forward to a brighter future.
The seed of hope continues to grow, too: the problems caused by the war seem to be lessening. We can still hope that people will begin to see the futility of war and it will come to an end soon.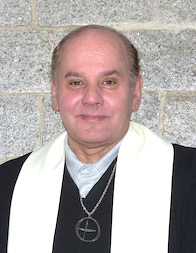 And, finally, there is the seed of faith. The last year has been difficult, but we continue to look forward to a future where our relationship flourishes, our hardships are diminished and our respect for each other continue to grow. We do this, together, as children of the one God who provides for us all, as recipients of His providence.
So, I close, as I began, feeling grateful for our friendship, and feeling blessed that we can share the seeds of faith, hope and love with one another.
May God keep you and may his grace bless you all,
Warmly,
Rev. Roger Peltier
First Unitarian Church of Providence, RI
Szentegyháza Unitarian Church 2022 Thanksgiving Greetings to First U:
For the Thanksgiving message, Rev. Kelemen sent us a recording of 1492: Conquest of Paradise, which is a 1992 music score from
the electronic composer and artist Vangelis. The film, a recount of the voyage to America in 1492 by Christopher Columbus. It was perhaps thought the Pilgrims may have had some of the same thoughts as those early explorers who sailed with Columbus.
A hundred seas turn against us,
a hundred storms are fighting us.
no food, fear grows
and we are running out of people.
Fire and windstorms destroy everywhere,
and good hope is so little.
Although we fight, yet we rebel
and our life is suffering.
Why do we suffer so much, God?
why do we suffer for everything?
How many good friends died for their dream
for treasures and nothing.
We'll all be gone one fine day
when the mission is over.
We're all leaving, we won't even say goodbye
that's all our life is worth.
Fire, ravaging fire, ravaging fever,
raging sky, sea tide, a sea of torment, a purifying fire,
why, why and why? Why?
Brave new world, we're finally here
beautiful new world, we dream.
Be our new country, be our home
where we can live and die.
In the colorful sea of our beautiful dreams
no war no storm
there is only peace where so many of us can live in happiness.
Fly, fly, blue bird, fly, fly
fly, fly, fly, blue bird!
Why would you leave me? You can't leave me!
You have not forsaken me, Lord!
Brave new world, we're finally here
beautiful new world, we dream.
Be our new country, be our home
where we can live and die.
We'll all be gone one fine day
once the mission is over.
We're all leaving, we won't even say goodbye
that's all our life is worth.
If man lives for man.
The mission is over.
Rev. Szabolcs Kellerman
Unitarian Congregation of Szentegyhaza
See these sections for more Transylvania Partner Church information:
Partner Church History
Partner Church Congregation   Partner Church Visits  Trip Details