Partner Church
Christmas message from Rev. Kelemen
When you are cut off from everything and everyone by an invisible enemy, in the corner there is a tiny thought watching, formulating during these difficult moments. This tiny thought makes us stronger, so that we can fight for God's true world and for the existence of Christian traditions.  Uncertainty lies in every move now.   How can I do what I would like to do?  The hug, the kiss, the happiness of reunion, the honesty of a handshake?  Can you love one without showing physical signs?  When the ground becomes slippery like ice and we almost fall, who can we hold onto if not you?  You are far away, but we are still holding onto you.  I know that the holiday celebration will give us an opportunity to hold onto each other.  It will emphasize the importance of our togetherness.
You are hugging hope in a warm room, and I'm murmuring out loud so you can hear it too, this is all I hoped for!  This Christmas is really all about the family.  We need to understand that men and women and their children are like a warm stove, giving an example to people who have strayed away from God.  We quickly dress into our celebratory gowns and finally are here with you. With all of you!
Silence comes and, in this silence, we understand the clarity of white snowflakes, God's love, and the opportunity that comes from Him.   Happiness is cradling us in a soft blanket, and I feel more than ever that we are together.
May these be the words of Christmas, the thoughts and feelings that surround us and make us one.  We wish you a happy and spiritually fulfilled holiday, and a New Year full of hope, but most of all, full of accomplishments.
Rev. Szabolcs Kelemen
---
Christmas message from Rev. Liz
To Szabolcs and all our friends in Szentegyhaza:
This last year has been a difficult one. Our congregations struggled through the effects of this virus, including the ways we had to completely rethink worship and community. Although I am not usually especially oriented towards technology, I will always be grateful for it now, allowing us to keep our connections to our communities, including our relationships with you.  Though none of us have been able worship as in the past, we found ways to be with one another.  But then this should not be a surprise. Francis David set the foundation for religious innovation, and we are still following in his footsteps!
More than ever, this Christmas is a time of hope. As always, days are getting longer and the nights shorter. But now also, darkness of the pandemic is starting to lift with the use of the vaccines. Now is the time to hope that your messages to the angels will be answered.  May our hopes for increased friendship and mutuality and love between all of us also be answered.
Christmas is a high point of our year, not only as an expression of the Christian faith, but also as a celebration of universal human hopes of love, peace, and joy. May your Christmas be full of those blessings and many others.  May the new year bring us all closer together in spirit – and then in body when you come on your visit!
With affection and anticipation,
Rev. Liz
---
Thanksgiving message from Rev. Szabolcs Kelemen
We greet you with gratitude
Hebrews 13.15. By him therefore let us offer the sacrifice of praise to God continually, that is, the fruit of our lips giving thanks to his name.
The summer has passed. We need to mention that summer was beautiful. It was warm enough for the crops to mature by the life-giving sunrays.  Diligent hands have harvested the right crops, which we carried into our homes and pantries. Autumn has greeted us with scents, beautiful colors and lights, and we need to say, that autumn was beautiful.  Today is a day to give gratitude.  Today we pause and think about all the things we have received from God.
It is true that there have been bad things happening this year, but we do not have to thank God for those bad things, but the people.  People were the ones who didn't notice how other people live around them; they were concerned about power and wealth in the world.  A serious epidemic has begun this year.  We should notice that through the power of nature, God has shown us an example of beauty, community, bounty, realization/implementation, and God's Kingdom.  We should notice that the direction we were heading to was wrong.  Of course, not everyone lived like that.  There were many who were naturally striving for the beautiful and the good.  There either weren't enough of us, or we weren't loud enough for them to hear our voices.  We were watching with sadness that what we wanted didn't become reality.
However, today is the day to give gratitude.  We give gratitude for the example of historical friendship, for the set table where Native American and white people were able to experience peacefulness.  We are grateful for the value of diversity and for our ability to turn these forces towards progress.  We are grateful for the hugs, when we have the opportunity.  We are grateful for the memories in which our deceased loved one's faces, hands, and souls are present.  We are grateful for the human inventiveness that at least allows us to fight against an illness that we artificially or accidentally created.  We are grateful for the lives of the children who were born, who are part of the future generation, and contributing members of life.  We are praying for all our lives for peace and spiritual fullness.
We are praying for the friendship that holds us together, the love in which we can live and be together in spirit.
We wish a happy Thanksgiving to our siblings and friends.
With love,
Rev. Szabolcs
---
Summary of the 2020 Odorheiu Secuiesc County Women's Alliance's Conference
Preparation:  We are living in difficult times. Last December, we were concerned about the impact of this unknown virus. Members of the health community said this danger must be taken seriously. We were concerned about the fate of the Women's Conference we had undertaken. This Conference was developed to strengthen our sense of belonging, deepening our faith, and love with our larger association.
Our concern was not unfounded. In the middle of March, the spreading virus took on such proportions in Hungary that it could only be stopped and silenced by government measures. So, we had to postpone the Women's Conference scheduled for May 9th. While we understood the measures, we were still painfully confronted with the fact that our community life was threatened in addition to our health. This has been the case ever since.
We felt locked up in our homes, cut off from our communities, kept in fear, and let's face it, we were. The perceived threat filled the hearts of our brothers and sisters with such fear that we missed out on our friends, our church, and our social work which we enjoyed. But in fact, we are social beings who need to be with others, nurture community and community work
and pray together. We have tried to withstand the burdens that this situation created so that we can help others in our church by providing webcasts of the parish services, and access to these services for our elderly and sick brothers and sisters. Through these services, we sought to stay in touch, pray together, and face our fears.
In this difficult situation, it was a difficult responsibility to organize our conference. We talked with the leadership of the County Women's Alliance about how we could fulfill our responsibilities and maintain the health measures. The pandemic convinced us that keeping distance and following other health measures would not lead to a crisis in our community life because of the strength in the community. We prayed to find the right time when we could step out of the confinement and do the basic activities as we wanted.
As a result, we held the annual conference of the Women's Alliance of the Udvarhely County on September 26, which was attended by 84 people. Mostly all were in traditional folk costumes. There were though, many, even in the Church leadership, who feared so much for their lives that they could not support our work and voiced their opposition. This made the planning difficult, but the conference took place with the full joy of the participants.
Originally, our courtyard and summer residence would have hosted the conference but due to the Church leadership concerns over the pandemic restrictions on food preparation, the conference venue was moved to the Odorheiu Secuiesc Downtown Parish. The rest of the organization for the Conference remained the responsibility of our congregation. Nearly 30 women from our church traveled to Odorheiu Secuiesc at dawn to arrange the different areas for reports and lectures, meals and breaks in accordance with the health laws. We provided temperature monitoring and other required health measures. We provided tea, coffee and sandwiches. Our women did a wonderful job. They held up under very restrictive conditions graciously. All 84 of our brothers and sisters attending the conference took home the gift of the soul, the joy of common prayer and the CD of the Szentegyháza Children's Philharmonic, as well as the traditional Szekler cloth bag with the symbol of Szentegyháza, the daffodil.
The Conference: The president of the County Women's Alliance, Melinda Simó, greeted the gathered and stressed that "We are the Women's Association, we are yarns separately and woven together in a beautiful fabric". The conference was built on this motto. Ibolya Fartu, the president of the Szentegyháza Women's Alliance, greeted the participants. In the words of our poet Sándor Reményik, who emphasized: "The soul lives and works quietly, on a small island or on a huge sea, but what it creates is not for the world, only for a small circle, only for a small flock." He closed his words with the thought of "love heals". All this was followed by a joint and congregational, women's covenant account of each Church County. We noted sadly how much the Covid-19 epidemic had defined our communities by arousing fear.
The Program included two wonderful speakers:
Eszter Nagy, a retired Hungarian teacher referred to the fact that the Unitarian Church has declared 2020 the year of responsibility. In his presentation of the literary work of Imre Madách entitled "Today's Man: Based on the tragedy of man" which is a 15-act drama published in 1861 about the past and future of humankind. He is often considered Hungary's greatest philosophical poet. It is worth paying attention to ourselves and our fellow human beings in a period saturated with a pandemic in that we can avoid tragedy and be happy.
Éva Bartha, a Hungarian teacher and historian, spoke about our brothers and the idea of responsibility. Focusing on the life of Ilona Zrínyi, from his youth until his death, he described what he did for the Hungarian community, and the results of that work on his community. Even in his most difficult moments, of which he had plenty, he did not cease to work for his community according to his conscience. He felt it was also his responsibility to lead his Hungarian community to a happier present for "God and Homeland". He encourages us to have the kingdom of God among us if we work responsibly for it.
Acknowledgements: We would like to thank our benefactors for their financial support, our pastor for his sacrificial work and the responsibility and support of the Harghita County Council, without which it would have been impossible to organize this conference. A leaflet and a booklet about the conference have been printed, which we will be happy to send in digital form if required.
2020 október 25,        Antal Enikő
Szentegyháza
---
Thanksgiving Wishes from Providence
The fall harvest comes in a most beautiful time of year. The searing heat of summer is over, and the sun is setting lower in the sky. Colors will begin to paint the trees.  The bounty of the land is now showing itself on our tables. It is now time to reflect on all the hard work that had to be done to harvest this food. So many people had to tend the fields with both hard work and respect. If they did not weed the fields and water the crops, our bounty would have been smaller.
Relationships are a lot like the harvest. We can only get something out of the relationship if we work at gaining an understanding of each other. We need to be open to listening to each other and build on both our similarities and differences. It is easy to work on issues where we have similar thoughts; but the true test of a strong relationship is to build enough trust and care that we can express and work to understand our differences.
We know that the winter season will creep upon us soon, and there is need to prepare the soil for next year's crop. We need to find ways to make sure the crop is better next year. Our friendship can be stronger if we can find the ways to grow our love for each other. Our future will be stronger if we continue to plant the seeds of love today.
I will leave you with a final thought from W.E.B. Du Bois, a brilliant African American leader and thinker:
"Now is the accepted time, not tomorrow, not some more convenient season. It is today that our best work can be done and not some future or future year. It is today that we fit ourselves for the greater usefulness of tomorrow. Today is the seed time, now are the hours of work, and tomorrow comes the harvest."
We look forward to harvesting the good will and wishes we have sown in the past years. We must also continue to seed this relationship.
I would like to express my best wishes to you and your congregation in this bountiful time of year. You continue to be in our thoughts and prayers.
Peace be with you all.
With affection,
Rev. Elizabeth Lerner Maclay
Senior Minister
---
Feast of Pentecost message from Rev. Keleman
Every year, the question arises inside me, why there is a feast of the Pentecost? The traditional celebration of Pentecost is rooted in the Jewish tradition. The Jews were in great doubt as to whether it was a good decision to leave Egypt. At Mount Sinai, there was doubt in their hearts as to whether the Lord is truly God. At this time, they made a covenant with God. This covenant is the foundation of their attachment to the Lord and life.
Much time has passed since this covenant was made. On the stage of history, Jesus appeared, preaching a philosophy of life through which all people can enter the kingdom of God; spiritual salvation is guaranteed for all people. This is seen on the occasion of the first Christian Pentecost, when about 3,000 people were baptized into a covenant. I think this is truly a renewable covenant between God and man.
Why is there a Pentecost? This day gives us the opportunity to make and strengthen our covenant with God over and over again. The celebration of Pentecost is about community, a community that knows and wants to renew their relationship with God. We may call the power of God differently. It can be called God, Buddha, Jehovah, Allah, or anything else, but these are just names. But our belief in this higher power provides an opportunity for us to be strengthened into an alliance with him every year.
That is why the Feast of Pentecost is so important. I wish this holiday this year would bring us spiritual salvation, spiritual fulfillment, and reinforce the covenant we made with God.
---
Easter message from Rev. Liz
Dear Szabolcs and all the Szentegyhaza congregation,
I am thinking of you with anxiety and care as we approach Easter through these dark days of anxiety and hardship.  Especially in such moments, however, we know that the strength of a community is most felt, and most important. These are the times we are most reminded of Ubuntu – that principle I spoke with you about last summer: 'I am who I am because of who we all are.'  Now we lean on each other for strength or support or resources, now we are here for each other;  when we are in need, someone else will have what we need, whether it is hope or bread.
And of course as we look to Easter, we remember that pain and loss are real, so too are the power of life and renewal.  It is too soon for us all to dwell in that sense of new life. We are still in the time leading up to Good Friday, and I feel we will be there for a while.  But Easter will come to us spiritually even if it will be long after the calendar tells us it has passed, and we will look forward to that all the more as we move through this long Lenten season.
We are sending all of the people in your congregation and beyond the church much concern, hope, and prayers that all of you will stay safe and well.
Looking forward to better days,
Rev. Liz  and all the people of First Unitarian
---
Easter Greeting from Rev. Kelemen
Dear friends:
Easter celebration is approaching. According to Christian beliefs, Jesus entered Jerusalem on Palm Sunday. We believe that if we open our souls, Jesus will join us this year with His teaching and change us to make us better people. Therefore, this Easter is not a resurrection of Jesus, but the celebration of his teachings, thoughts, and victories.
I also invite you to celebrate together. I made a call to our followers. On every great holiday, including Easter, we share Communion. Sharing bread and wine can forge us together. Therefore, since we will have an online Communion, I have asked my congregation and I am asking you to be with us at the time of the live streaming.   Have a little wine in front of you and have a few cubes of bread on the table. When the I call you to do so during the service, I'm asking you to follow me in sharing the wine and the bread together.
I know there is a 7-hour time difference between the two congregations. When the service begins here, it is 4am in America. Still, this is a time we can be one in spirit.
On this special day, we wish you to pay attention to each other, take care of each other, experience good health, enjoy nice spring days, and we wish you to have an Easter holiday that fills your soul with love.
With lots of love
Rev. Szabolcs Kelemen
---
April Thoughts from Szentegyhaza
Dear Friends,
It hasn't been a year since you have been here. I remember being together, when we were singing Hungarian, America, Greek, French and Romanian songs at the gazebo.  I remember how minister Liz was milking the cow and got fresh, foaming, warm milk.  It was also memorable when we went to the straw hat museum together.  I remember our nightly talks, waking up in the morning, and every moment we spent together.
We have a hard time speaking now.  We are watching the news, feeling concerned, watching what's happening here in Europe and in America, which is deeply concerning me.  The news is saying that an invisible danger is spreading.  Thank God, our county doesn't have any virus cases, but Romania has a high number of patients. It's only a matter of days and hours for us to be prepared to do something about it.  Our members of the church have been staying at home for a long time, specifically three weeks to stop the spread of the disease.  We miss our community meetings, praying and laughing together, and planning for the future. We miss our parents and the children who have to stay somewhere else at home, our friends, and people.  I have mentioned many times last year to take care of nature, to take care of each other, to take care of the faith and morality between us.  And now we have to face a danger that excludes us from nature, separates us from our communities.  When will we learn that the world also has a soul and life, that we are part of?
Thank God, everyone is doing well here. People understood to stay home, and teaching is continuing online.  This brings up another question, since the education of our children is the security for the future.  I am not satisfied with the way we have resolved the issue of education.  If it would be up to me, if I would have to make a decision, then I would repeat the school year, so that the future generation can have a good foundation of knowledge.  This, however, is also connected to economic issues.
It is sad to say that church communities, parishes like the Szentegyhaza Unitarian parish that didn't have and don't have economic wealth, will face great difficulties. We only live from the support of our congregants and supporters.  The members of our church and our supporters are also facing economic difficulties.  Therefore, our income has significantly dropped, and I don't know what we can do to solve this issue.  I'm assuming it's not just here but in America as well.  Paychecks are in danger, and due to the lack of financing, employment stops too.
Well, that is the bad news.  Despite these, we have good ones too.  People are staying strong, and faith keeps people together.  Every Sunday we are holding an online worship, available on Facebook.  A lot of people watch it and comment on it.  This shows that we successfully found members with the help of Facebook.  Our church community has put their faith and hopes in God, in order to defeat difficulties. There will be a resurrection of humankind.
We are really looking forward to our trip this year. I purposely haven't written anything about that yet.  I believe we have to wait for the right time to see when the trip can occur.
I believe that everyone is well and healthy in our congregation.  I worry about you, my friends, and I know that you worried about us as well.
I'm asking the Women's Association to join the Facebook group started by Nori Duncan, as one form of keeping in touch with each other.
With lots of love,
Rev. Szabolcs Kelemen
---
January message from Rev. Kelemen
Dear friends, siblings,
Not so long, about a few weeks ago, I read again a book that's dear and instructional to me.  It is the book by Antoine de Saint-Exupéry, 1943, The Little Prince.  In this book, the author, through the main character, shows the amazing way one can tame a fox, how in that wild and free soul, faith can be so great that it trumps fear.  The fear is from getting caught by the little prince, who takes his freedom away and rules over him.
Today's little princes are working on taming us in a similar way; however, their goals are not the same as the above-mentioned book's little prince's goals.  We can't be sure that our values will remain, that our freedom remains. Recent events all prove that these little princes are slave-owners, for whom we are, and we can only be servants.
In the book the fox tells the prince, "But if you tame me, we will need each other.  You will be the only one for me.  And I will be the only one for you…."  This is not exclusiveness, but the expansion of inner values, through which being together spark joy to people.  That's what we should experience.  We have to feel that we need each other, and not for one being more rich or other poorer, not for being each other's servants, but for love to expand in ourselves.
I think in a lot of ways, distance is the only thing that separates us.  We thrive to create time that we spend with each other, to make our feelings stronger, and to say that we are siblings.  We are important to each other.  "That time that you spent on your rose is what's making your rose so beautiful,"  says Antoine de Saint-Exupery, and he is right.  Because if we can find the inner values in each other, then there will be a bridge built through miles and above oceans, and we have tamed each other.
Let's make this happen, work for this to persist.  Let this celebratory moment define our lives, our thoughts at the time we are joined in our souls.  Let this community be the community of love – not the nothingness of forgetting.
With these thoughts I'm greeting my friends at the time of the partner church Sunday celebration.  I hope to see you again soon, to be together again, and to share new happy experiences.
2020-01-24, Szentegyhaza
Kelemen Szabolcs, Minister
---
January message from Rev. Liz
Hello again Szabolcs and everyone from Szentegyhaza,
I hope winter there is being gentle with all of you – so far, here in Rhode Island, it hasn't been too bad – in fact I wouldn't mind a few more snow days forcing us all to stay snug at home.
As I get ready for our upcoming Partner Church Sunday celebration, I am reminded of what a wonderful visit we had with you all last June.  I keep the little hat they made at the Hat Museum while showing us how they work in my room and think of that day and all of you every time I look at it.
Experiencing your region, and life there with all of you was such a rich and varied opportunity for me and for all of us who made the trip last June.  We gained a great deal from it, and are so looking forward to hosting now in our turn this coming June, both at our church and at our annual General Assembly.  My husband Tim and I are making plans for a celebratory dinner at our house, and many church members are enjoying putting together trips and special meals, as we prepare to try to reciprocate the wonderful hospitality we experienced with all of you.
The theological history we share is a powerful reminder of how far ideas and faith can spread, and what deep-roots can come from the seeds we sow.  I hope this new year before us will be one where the respect and compassion that are at the heart of our shared faith spread further and deeper within and well-beyond our congregations – these sacred traditions are more needed now, I fear, than ever.  And I'm proud that we are all strong for this faith that has so much to offer our broken and struggling world.
Warmest greetings to you all, in hope and faith,
Rev. Liz
---
Partner Church Committee

---
Photos from First U group's visit to partner church
Summer 2019
---

History of our Partnership
In 2008, our congregation voted to establish a partnership with a Unitarian Church in Szentegyhaza, Romania.  The church is in a small town nestled near the Carpathian Mountains in an area called Transylvania, once a part of Hungary.
Members of our congregation have visited our sister church three times. We have crisscrossed Transylvania, learning about its history and the founding of the Unitarian Church there in 1568. Members of the Szentegyhaza church have hosted us in their homes and treated us with warm hospitality.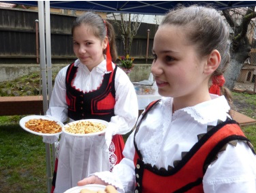 We have participated in their worship services and heard their bells ring from the bell tower we helped to build. You can see gifts they have given us used in our services and on display in our memorial garden. This ongoing relationship has created a special feeling towards our sister congregation and a deep appreciation of our shared religious heritage.
For more information about this our partnership, click here: Why We Have a Partner Church in Transylvania.
Timeline:
1930  First Congregational, now First Unitarian starts a partnership with a village in Transylvania.
1945  WWII causes contact to cease. The fall of Romania to Communism further suspends the relationship.
2004  First U meets with Unitarian Universalist Partner Church Council to discuss reestablishing a partnership in Transylvania.
2006  First Visit – First U members travel to Transylvania to explore possibilities of a partnership.
2008  Rev Kellerman and President Sandor Racz visit Providence, RI. First U congregation votes to establish a partnership with the Unitarian Church in Szentegyhaza.
2009  Second Visit to the Village.
2015  Third Visit to the Village.
Partner Church Visits
One of the keys to maintaining a strong relationship with our Partner Church is our visits with them. Everyone who travels to our sister church experiences a powerful friendship that seems to binds us together. The Szentegyhaza congregation always greets us with open hearted hospitality.  Their desire to show us their traditions, and their willingness to learn who we are and teach us who they are, is the hallmark of an open and enduring friendship.
This partnership is not about money or who can do what for whom.  It is about much more; once you are in it and experiencing the friendship, it becomes very personal. It is like swimming in a river.  You are immersed in it and must follow the current where it takes you. The partner church relationship gives us the opportunity to experience spirituality in the connections we make and the relationships we form with our Transylvanian Unitarian brothers and sisters.
Click on the  2006 Visit, 2012 Visit and 2015 Visit to find out more information on these interesting trips.
Various members of our congregation have visited our partners in Szentegyhaza. We usually plan our trips 6-12 months in advance. The trip usually starts in Kolozsvár, the city where the Unitarian Church headquarters resides. Each trip itinerary is different in some way.
There is a lot of Unitarian history in Transylvania and each trip has explored a different part of the country. There are many UNESCO World Heritage Sites in Transylvania, many with Unitarian connections, and our trips include visits to some of these sites.  The trip usually last 10 days; the first 5 days consists of a tour through the countryside.  Then we spend Thursday afternoon through Monday morning at our partner church.
The Village Experience
Each traveler experiences the hospitality of a member of the congregation in Szentegyhaza. This is the best part of the trip, a time where we get to know a family from the congregation. We sleep at their home or apartment, eat meals with them, and usually make a bond for life. The partner church hosts a number of events that showcase the area around Szentegyhaza. Come Sunday, We attend service and then eat a communal meal prepared in kettles over a wood fire in the church yard. The last days of the trip return us to Kolozsvár, where we catch a plane home, returning to America with wonderful memories and a new understanding of our faith.
About Szentegyhaza
Szentegyhaza is located in Hargita County, Romania, an area that is predominately Hungarian speaking. It is the located near the Carpathian Mountains, at an elevation 2,800 feet.  There are a number of churches in the area, but this is the only Unitarian Church.  The church has about 300 members.
The Szentegyhaza congregation is a triple minority in Romania. First, they are Unitarians in a country that is predominantly Romanian Orthodox. Second, they are Hungarian speakers where the majority of the country speaks Romanian. And third, they identify themselves as Szeklers, a minority subset of Hungarians living in Romania.
The town is rural and does not have a lot of large businesses although it was home to a large steel factory, abandoned in the fall of communism. A number of the people in town farm for a living. Some herd their cows and are moved along village streets to nearby pastures in the morning and are brought back in the evening.  A number of people in the congregation are migrant workers, and spend long periods of time far from home. Consequently, the full congregation does not usually attend services on Sunday. However, church attendance is especially high during major holidays when the church is too small to accommodate everyone.
The congregation has been in existence for 25 years and was formed a few years after the Romanian Revolution of 1989 that toppled the Communist regime.
Click on The People of Szentegyhaza to learn more about the friends we have made over the last ten years.
Unitarian Universalist Partner Church Council
The Unitarian Universalist Association developed a support system for congregations that are interested in developing Partner Church relationships. Since 1993, the Unitarian Universalist Partner Church Council (UUPCC) has been developing these relationships. The UUPCC assists congregations in selecting partner churches around the world and has a travel office that helps congregations organize travels to their partner churches. Click on UUPCC for more information on this topic. The UUPCC is not just involved with partnerships in Transylvania but has supported relationships elsewhere. For more information on partnerships throughout the world, click on  newsletters .
Future Activities
We are making arrangements for our partner church minister and his wife, Rev. Szabolcs and Eniko Kelemen, and their church president, Zoltan Laszlo, to come to our congregation in 2020 to help us celebrate our 300th Anniversary. The Transylvania delegation is now in the process of getting their passports for this trip.
Host needed for Transylvania minister, family in June

The Transylvania Partner Church Committee is requesting assistance from members of our congregation next June during the General Assembly to host Rev Elöd Szabó, his wife Katalin (Kata) and two children. For more information, click here.
Contact Us
If you have any questions about the Partner Church please contact Tom Getz or Janet Downing Taylor. They will be glad to talk with you to discuss any questions you may have.
---
Hungarian Youth Folk Dance Group Performed
The "Wild Roses Folk Dance Group", is a native Hungarian Youth Folk Dance Group from Székelykeresztúr, in the Transylvanian region of Romania. Members of our church visiting Transylvania earlier this year saw the performance and loved it!  The dance group performed in Concord, MA earlier this year.  Click here for details.
---
A 2019 Christmas letter from our partner church
in Szentegyháza, Transylvania, Romania
By Rev. Kelemen Szabolcs
Christmas: The opportunity for conversion and reflection
I am reminded of the passage of Sándor Petőfi, A Plan to Smoke:
And I remembered many nicer, more beautiful thoughts,
While there appeared at the time, while the wagon ran.
While the wagon was running, time passed quickly, and I was confronted with the simple idea that writing about Christmas was not such an easy thing. It's simple because I can write about the angelic message, the nativity games, the wonderful birth, the innocence of the cradle, the light of the star appearing, and so much that has been already thought of by everyone. I could write about the obvious things that surround us, such as how shopping is a very heavy burden today to find the right present for everyone or about the hassle of cleaning and the housekeeping for company. Those topics would be easy. But just as easy I could talk about Christmas past. However, 21st-century society is no longer enchanted with tales and fairies. If we do, these thoughts are only heard by the children; they still believe, they still accept these stories.
Our children, in the past, would listen to the stories of angels in wonderful adoration. We tell them the angel's eyes see everything. We say to them, "Be careful what you do, because the angel will not be happy if you are not good." We encourage the children to consciously do something good every day. It is touching as the little child tries to adapt to this expectation and does good. She/he strives for it.
Then something happened. We lost this concept somehow. The child now expects to be given things if they are good. Parents, grandparents, husbands, and wives now jump over themselves to make the children's dreams come true. This is how we have adapted to the expectations of the consumer society. The lights go on; we decorate, we make not only our homes, but our villages, our cities, so that we can make up for the lost light of shorter days. We forgot the special light was from that star – the light of the Christmas triumph.
As Matthew said, "Verily I say unto you, unless ye be converted and be as little children, ye shall in no way enter the kingdom of heaven." It does not ask anyone to forget what we have learned. He is saying to go back to the simpler way. Let us be exemplary of the spiritual good. Let us be conscious of the Advent. Let's not just wait, but let's make sure that Christmas shows us our inner light. This is how Christmas can be a celebration of "love," of "family." If we are only being superficial and spend time on the exterior, we need to step back and spend time caring for our inner soul. Doing good for our fellow human beings will do us the greatest good. This is a liberating feeling of inner fulfillment. This is an opportunity for Christmas – a celebration that begins in the Advent period and becomes permanent in us at Christmas.
The Unitarian Congregation of the Holy Church wishes all you a spiritual and a happy Christmas at this special time of year.
---
Thanksgiving 2019 message from our Partner church
The American Thanksgiving Day goes back to 1620. It was then that the 
settlers who emigrated to America arrived in the New World. The harsh winter has decimated them, and only 102 have survived the winter. They were lucky because the Indians, who had seen their misfortune, gave them the skills of local hunting and crop production. They did this so the settlers could have a rich harvest next fall.
Dear friends, Thanksgiving is a day to give thanks to many people and things:
It is a day to give thanks to the idea of ​​friendship which saved the lives of the first settlers. Let's give credit to the 102 people who endured the first American winter and who have blossomed into the American society and community we know today.
We thank the families. The warmth of the family stove has protected those immigrants, as well as us, so that we can be a valuable part of our community by committing ourselves to others.
We thank the children. Those who lived in both difficult or richer circumstances and who have been the embodiment of the American dream. Let's give thanks for the children to be born who carry on our society and will be a valuable part of our culture.
We thank the parents. Parents are brave men and women who dare to give birth to children and who sacrifice for their children to make their life better.
We give thanks for the song. It is the music, whose words comforts us in sorrow and excites us with joy.
We give thanks for the bread. Bread is not just the nourishment we place on our tables, but the life-giving food that so many in the world lack. This bread is given to us by the providential God.
We give thanks for the water. Water keeps us clean, quenches our thirst, and is one of the gifts without which there would be no life on earth.
We give thanks for the feeling of love. It is this love that binds us together to remove borders and oceans and allows us to be one in the spiritual peace of love.
We give thanks for life. Life is everyone's personal property. Do not play with it; it must be taken seriously. Life needs to be lived.
At this moment, we are gratefully thanking you for everything. For not only what we mentioned above but for many other things not listed. We are grateful to the good God and for the friendship and love we have between us.
Rev. Kelemen Szabolcs
Szentegyháza
October 29, 2019
---
Thanksgiving 2019 wishes from Providence
Of course, autumn is the harvest time all around the world.  The relationship between our two church communities is similar to the harvest.  We must sow the seeds of love.  This is the easy part – harvesting the love that has been sown requires much work, care, and understanding; thereby building a strong and persistent relationship.  This can be cumbersome, as we live far away from each other and our language is not the same.
This summer I have seen the fruit of our budding relationship.  I have seen the love of our communities and we have enjoyed your generosity.  The seeds are sown, but there is still room for growth.  Our relationship with you will continue to flourish.
I want to express my good wishes and the good wishes of our community for the successful harvests of the cultivated land and our beautiful relationship.  We always include you in our thoughts and prayers.
Peace be with you.
Yours,
Elizabeth Lerner Maclay
Pastor