Social Justice
Gun Violence
Affirming the principle of the worth and dignity of every person, First Unitarian seeks to reduce the threat of gun violence in our communities. We participate in interfaith initiatives including Guns to Plowshares and the Religious Coalition for a Violence-Free Rhode Island with Rev. Gene Dyszlewski, our community minister.
We have partnered with interfaith coalitions and advocacy groups to pass legislation:
Removing firearms from domestic abusers
Establishing gun-free school zones
Increasing the age from 18 to 21 for purchase of long guns and ammunition
Limiting magazines to 10 rounds
Prohibiting loaded guns in public
Side with Love
A denomination-wide social justice advocacy and public witness campaign, we are inspired and guided by Unitarian Universalist principles. Side with Love works to use those principles to affirm unconditional, universal love as a foundation and grounding for our actions in the world. We strive to be of service to our communities and advocate for change on local, state, national, and international levels.
Through our Side with Love campaign we amplify the voices of the oppressed through:
online media
showing up in partnership at justice events in Rhode Island
lobbying local and national leaders on immigration reform, racial justice, equality for LGBTQ+ people, religious freedom, and more
work to make love real in the world.
We have participated in PRONK!, Transgender Day of Remembrance, Providence Mayor Elorza's Interfaith Forum, SisterSong, The Woman's March, March for Our Lies, PRIDE, Guns to Plowshares, Vigil to End Family Separation, monthly Peace Vigil Walks in Providence, and two letter writing campaigns. Through Side with Love and our community connection with the AMOR network, we have also participated in rallies and programs to support immigrant rights.
All people, not just UUs, are invited to join, speak, worship, march, and live on the side of love. To learn more, you are invited to visit the Facebook page 'Side With Love at First Unitarian, Providence.'
Contact: Kathrine Ahlquist
Immigrant Justice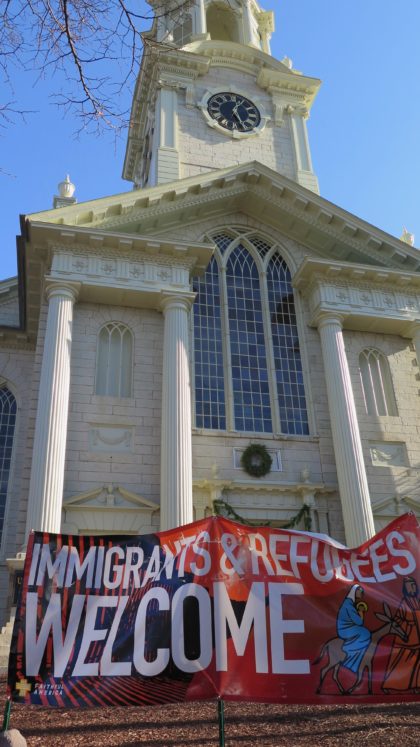 First Unitarian stands on the side of love with all families, regardless of citizenship status, and strives to create a welcoming community for all. We advocate for immigration reform, for an end to detentions and deportations, and for a world where no one feels forced to leave home or risk death in pursuit of a decent life for their family.
Sanctuary Congregation
Upholding our Unitarian Universalist Principles, First Unitarian publicly dedicated a sanctuary space in our church to provide refuge for a family in fear of deportation.
In collaboration with local and national agencies — including Dorcas International, Rhode Island State Council of Churches, Fuerza Laboral, Providence Immigrant Rights coalition, the Unitarian Universalist Service Committee, and UU churches in Massachusetts and Colorado — we are dedicated to putting our words and beliefs into action.
The work of providing a place of sanctuary for persons who are in immediate danger of being deported is ongoing, and the opportunities for people to participate are many. Throughout the year there will be training for those who wish to learn more about the role of a sanctuary host as well as opportunities to fill other important needs as our implementation of sanctuary continues and deepens. To learn more, click here.
Contact: firstusanctuary@gmail.com
Racial Justice
Every person has value as a member of the human family. The suffering caused by racism must be ended if we want to create fair and loving communities.
First Unitarian is working to end racial discrimination and injustice, starting within ourselves and moving out into the world around us. We support stopping racist policies like mass imprisonment and attacks on voting rights. Our efforts will continue until there is peace, liberty, and justice for all.
Black Lives Matter
The First Unitarian congregation voted in 2017 to affirm that black lives matter and pledged to pursue racial justice in our communities, in our state, and in our nation. We hung a banner on our property proclaiming, "This Unitarian Universalist Church Affirms that Black Lives Matter!"
We are committed to taking action to dismantle racism and white supremacy in our communities and to promoting justice.
Legislative Ministry
Our Legislative Ministry Team serves as a visible force for social justice in the "public square." Activities include letter-writing campaigns, attending public hearings and rallies, and lobbying at the State House.
The team meets the second Sunday of the month after the service and occasionally on Zoom. We reach out to the congregation through Realm and the First U Times, providing information and encouraging members to contact their legislators on issues of common concern.
How to get involved
Share your ideas and join discussions about priority issues in keeping with the seven Principles and social witness statements.
Attend events such as rallies and public hearings.
Volunteer to be on a rapid response action list to contact your legislators at key times on emerging issues.
Contact: Kate McGovern, katemcgovern61@gmail.com
Unitarian Universalist Service Committee
The Unitarian Universalist Service Committee advances human rights through grassroots collaboration. In more than a dozen countries throughout the world, UUSC fosters social justice and works toward a world free from oppression.
First Unitarian supports the UUSC and participates in its programs including the annual Guest At Your Table project and the College of Social Justice. Guest at Your Table supports human rights work around the world. The UUSC's College of Social Justice offers experiential learning to inspire and sustain social justice engagement. They organize service learning trips for youth.
Climate Justice
Creating a sustainable way of life is central to our view of a just and compassionate world. We invite all who share these values to join us on this journey of connection, sustainability, and hope. Get involved in our broad and growing movement for climate justice.
World Affairs Committee
The World Affairs Committee does not have a specific focus but rather explores topics of current interest through a variety of formats such as hosting speaking events after worship or at Parish Suppers. Recent event topics have included Ukraine and the Rhode Island Congressional primary election. Meetings are held on an as-needed basis, and all are welcome.