What to Expect in Worship
A typical Sunday morning worship service at First Unitarian usually includes:
words of welcome
lighting a flaming chalice, the symbol of our faith
music, both instrumental and vocal and in a variety of styles
a time for lifting up the joys and concerns of the congregation
a meditation or prayer
readings—ancient or contemporary
an offering, collecting financial donations for the work of the congregation or for justice work in the community
a sermon given by our Senior Minister Rev. Elizabeth Lerner Maclay, a guest speaker, or a member of the congregation
From time to time, our worship services incorporate children and youth from the Church School, intergenerational holiday celebrations, new member recognition, longer musical performances, child dedications, or services focused on our youth.
Generally, most of us do not dress up for Sunday service. Many wear jeans and casual attire. Please wear what makes you comfortable.
Coffee Hour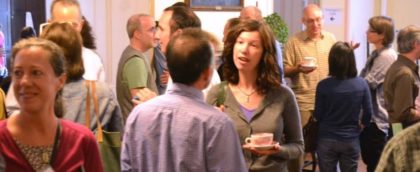 Immediately following the worship service, everyone is invited to the Parish House for a time of fellowship. A variety of snacks and beverages are available, many prepared and donated by our members.
In the Atrium of Parish House, tables are usually set up where you can learn more about our social justice programs and service projects, participate in a fundraiser, buy a book from Irene's Book Nook, sign up to help out with a current church project, and more.