The Transylvania Partner Church Committee is requesting assistance from members of our congregation next June during the General Assembly to host Rev Elöd Szabó, his wife Katalin (Kata) and two children. We are looking for a family to provide help in making the stay an enjoyable one for his wife and two children during the day. The host will also provide the family with meals during the stay. The Partner Church committee will make arrangements to take and bring back Rev. Szabo to the GA, if needed.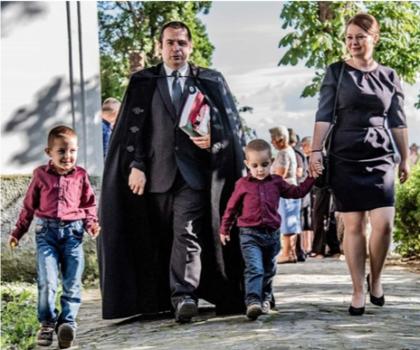 During the time the General Assembly is in town, our partner Church delegation will also be visiting us. Due to time constraints and the fact we will be hosting our partners, the committee will not be able to host Rev. Szabo. The Szabo family will arrive in Providence from June 21/22 (Details being worked out) and will leave Monday June 29.
The UUA supports the Balázs Scholars Program which invites and supports a Transylvanian or other international Unitarian minister for an academic year of study at Starr King School of Ministry. The purpose of the program is to enhance ministerial skills and religious leadership and to both broaden and deepen the minister's calling to serve in a changing and global world.
The Rev. Elöd Szabó is the 2019-2020 Balázs Scholar. He is the grandson of a Unitarian bishop, one of many Unitarian ministers among his ancestors. Elöd was born in Kolozsvar and attended the Protestant Theological Institute where Transylvanian Unitarian ministers receive their theological training. After serving as assistant minister in Székelyudvarhely, in 2007 he became the Unitarian minister in Ürmös, a town about 25 miles north of Brasov.  Ürmös has about 2,000 inhabitants, half of whom are Roma (Gypsy).
Elöd met his wife Katalin (Kata) in Ürmös. They married in 2012. She is a kindergarten teacher who now stays home with their two small sons, Magor who is six and Rego who is three. Magor attends first grade at the Berkeley Arts Magnet School. The children speak a few words of English they learned in pre-school.
Contact Tom Getz (thomas1getz@prodigy.net) for more
information or to offer to help.