Middle School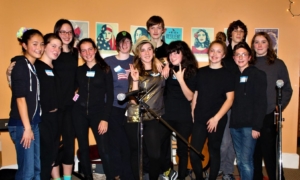 Creating Connections
Goals: Creating interfaith communication, connection, and partnership.
Creating loving, courageous, and mindful leaders.
Creating healthy identities and relationships.
Grades 4-5-6
Location:  Diversity Room (3rd floor)
Crossing Paths is our world religions program for 4-6th graders.  This special program uses hiking as a metaphor to guide the children on a year-long exploration of the history and beliefs of UUism and other religions, including monthly visits to local houses of worship.
Coming of Age
The Coming of Age program for middle schoolers, a UU Identity-building program with special mentors from the congregation, meets in the first floor Haynes Room. This program helps budding youth explore their place in the congregation through volunteer service, worship, and spiritual practices. These youth and their families will host the annual winter Taco Supper as a fundraiser for their UU History learning trip in spring 2024. You can look forward to their worship service in spring 2024 as well!