Middle School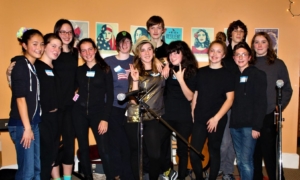 Creating Connections
Goals: Creating interfaith communication, connection, and partnership.
Creating loving, courageous, and mindful leaders.
Creating healthy identities and relationships.
Grades 5-6-7
Location:  Diversity Room (3rd floor)
Early middle schoolers are continuing to develop their spirituality through taking a leadership role in Chapel, and in their programming. They are creating connections and building identity, relationships, and knowledge.
Crossing Paths is a world religions program exploring the history and main tenets of the major world faiths. The program includes monthly visits to other houses of worship. Youth explore how their UU values and practices compare to those of other faiths in order to further strengthen and develop their UU identity.
Eighth Grade: Coming of Age
The Coming of Age program helps students who are transitioning to senior high school and the next stage of their spiritual journeys to clarify their faith development on their way to becoming lifelong Unitarian Universalists. They explore religious heritage and personal beliefs through group and individual experiences.
Themes of relationships, spiritual exploration, UU heritage and identity, and social responsibility are developed through Our Whole Lives (OWL), a comprehensive sexuality curriculum, and social justice efforts. Adult mentors from the congregation provide support and friendship connections.
The group travels to Boston in the spring to visit the UUA headquarters. They share their faith statements and affirm their beliefs at a recognition ceremony in the spring. Detailed information is sent to families in August; a parent orientation is scheduled for early fall.